The journey of parenthood is a remarkable and transformative experience, filled with endless love, joy, and anticipation. As you prepare to welcome your newborn into the world, one essential decision awaits you: choosing the best newborn photographer in Melbourne.
With a myriad of options available, it can feel overwhelming to navigate the sea of photographers and find the one who perfectly captures the essence of your baby's precious early days. In this comprehensive guide, we will unravel the secrets of finding the best newborn photographer in Melbourne, empowering you to make an informed choice that will immortalise the magic of your newborn's journey.
Style and Vision
Before embarking on your search for the best newborn photographer, take a moment to reflect on your preferred style and vision. Consider the atmosphere, mood, and aesthetic that resonate with you. Do you prefer timeless and classic portraits, or do you envision a more artistic and creative approach? By clarifying your vision, you can narrow down your options and find a photographer whose style aligns with your desired outcome.
At Kristen Cook Studio, we understand the importance of style in telling your family's story. We specialise in capturing newborns in a way that transcends traditional photography. Our unique approach focuses on form, movement, and the natural beauty of your baby. We believe that each photograph should be a piece of art, evoking emotion and creating a lasting impression. By understanding your desired style, we can tailor our techniques and artistic choices to align with your vision, ensuring that the final images are a true reflection of your family's unique aesthetic.
By defining your style and vision from the outset, you can find a newborn photographer who shares your artistic sensibilities and can create images that will bring you joy and nostalgia for a lifetime.
Experience and Expertise
Newborn photography requires a unique set of skills and expertise to capture the delicate beauty of your baby while ensuring their safety and comfort. When evaluating photographers, prioritise those with extensive experience specifically in newborn photography. A seasoned photographer will possess the knowledge and techniques necessary to handle and pose newborns in a gentle and secure manner. Look for evidence of their expertise in their portfolio and client testimonials.
At Kristen Cook Studio, we pride ourselves on our 15 years of experience in newborn photography. Over the years, we have honed our craft, perfecting our techniques and developing a keen eye for capturing those tender and magical moments. Our extensive experience has provided us with the opportunity to work with a diverse range of newborns, each with their own unique temperament and needs. This has equipped us with the expertise to handle newborns with care and confidence, ensuring their comfort throughout the session.
We understand the delicate nature of newborns and the importance of maintaining a calm and soothing environment during the photography session. We handle newborns gently, using safe techniques that prioritise the well-being of your baby.
Research, Explore, and Compare
Take the time to conduct thorough research and explore the work of different newborn photographers in Melbourne. Visit their websites, browse their portfolios, and delve into their client testimonials. Look for consistency in the quality of their work, as well as their ability to capture the unique personalities of each newborn. By comparing different photographers, you can get a sense of their individual styles, strengths, and the overall impression their work leaves on you.
These resources can provide valuable insights into the photographer's experience, artistic style, and ability to capture the essence of newborns. At Kristen Cook Studio, we take pride in our newborn portfolio, which showcases our expertise in creating breathtaking and emotive newborn photographs. Our clients' testimonials serve as testaments to our professionalism, skill, and commitment to delivering an exceptional experience.
Safety and Comfort
Your baby's safety and comfort should be the utmost priority when choosing a newborn photographer. Inquire about the safety measures they have in place, such as their approach to posing, the cleanliness of their studio, and the use of safe props. A reputable newborn photographer will prioritise the well-being of your baby, ensuring that each session is conducted in a secure and nurturing environment. Look for photographers like Kristen Cook Studio, who have a proven track record of upholding stringent safety standards.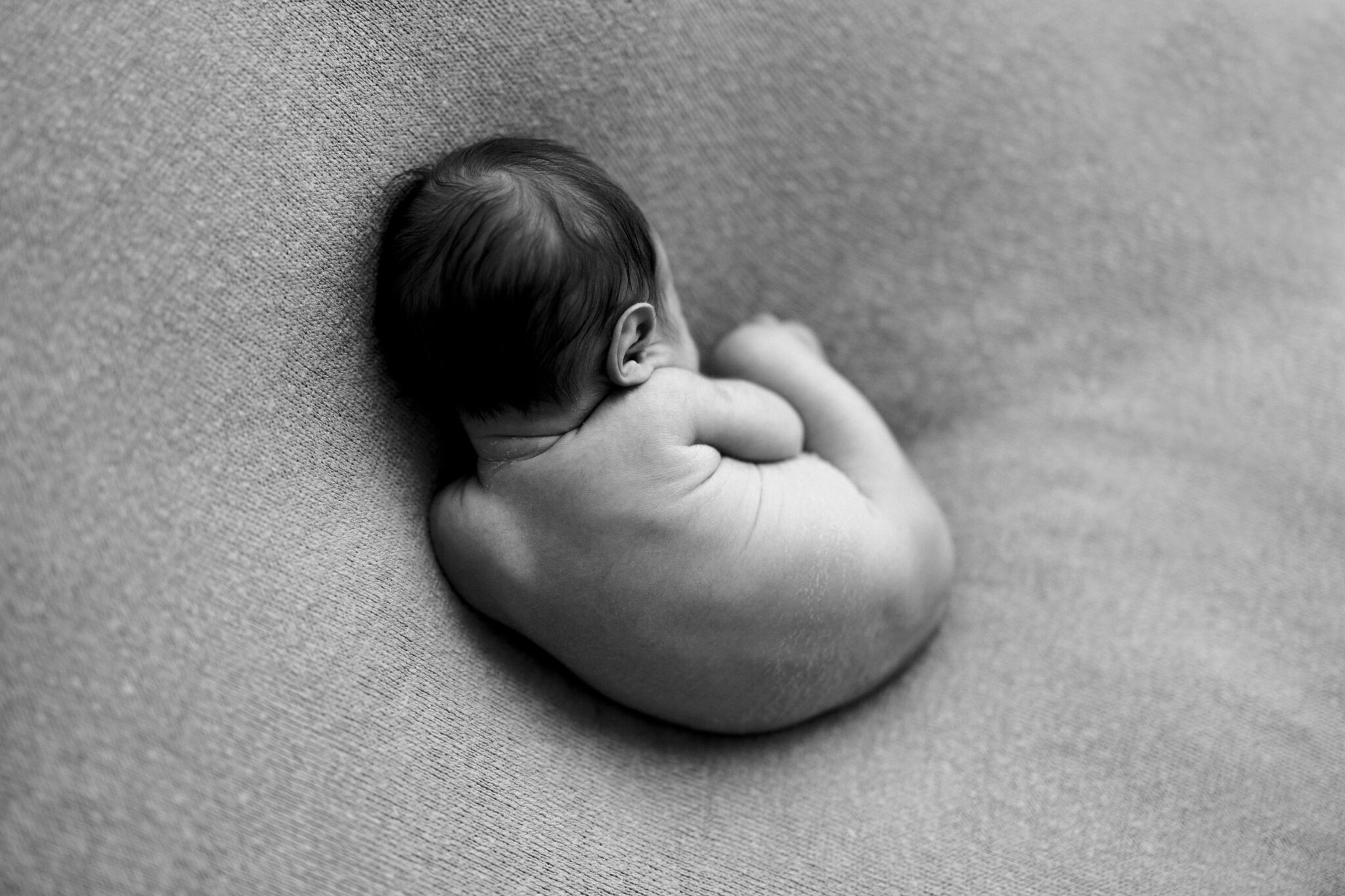 Personal Connection and Trust
Building a personal connection and establishing trust with your chosen newborn photographer is essential. Your photographer will be capturing intimate and precious moments, so feeling comfortable and at ease in their presence is crucial. Schedule a consultation or phone call to get to know them better, ask questions, and gauge their approach and personality. A photographer who listens attentively to your desires and concerns and understands your vision will be better equipped to deliver the results you desire.
When you choose Kristen as your newborn photographer, you are choosing more than just a service provider. You are selecting a partner who will accompany you on this extraordinary journey of documenting your baby's first moments. We value the trust you place in us, and we are dedicated to exceeding your expectations. By fostering a personal connection, we can embark on this creative journey together, capturing the essence and beauty of your newborn in a way that is uniquely yours.
Evaluate the Full Experience
A successful newborn photography session extends beyond the actual photo shoot. Consider the overall experience provided by the photographer. Do they offer guidance and support in preparing for the session? Are they responsive to your questions and concerns? A reputable newborn photographer will go above and beyond to ensure that you have a seamless and enjoyable experience, from the initial consultation to the final delivery of your photographs.
At Kristen Cook Studio, we understand the significance of providing a comprehensive and exceptional experience for our clients. From the moment you reach out to us, we strive to offer guidance, support, and attentive care to make your newborn photography journey a memorable one. Our team is responsive to your inquiries, promptly addressing any questions or concerns you may have. We believe in open and transparent communication, ensuring that you feel informed and supported throughout the entire process.
Preparing for a newborn photography session can be both exciting and overwhelming. We recognise this and are committed to providing you with the necessary guidance to ensure a smooth and enjoyable experience. Our team will offer insights and suggestions on preparing your baby, yourself, and your family for the session, including tips on wardrobe choices, timing, and what to expect on the day of the shoot. We want you to feel prepared, relaxed, and confident, knowing that every detail has been taken care of.
A great newborn photographer takes pride in delivering not only stunning photographs but also an exceptional level of service. This is why we go above and beyond to create a welcoming and comfortable atmosphere for you and your baby during the photo shoot. We are patient, gentle, and skilled in handling newborns to ensure their safety and comfort throughout the session. Our goal is to create a relaxed and enjoyable environment where you and your baby can be yourselves, resulting in natural and heartfelt images.
After the photo shoot, our commitment to providing a comprehensive experience continues. We carefully curate and edit the photographs to bring out the best in each image, ensuring that they reflect the beauty and essence of your newborn. We understand the anticipation and excitement of seeing the final results, and we strive to deliver your photographs in a timely manner. Our dedication to quality extends to the presentation of the final product, whether it's through digital files, prints, or beautifully crafted albums. We want you to relive the magic of your newborn's early days through tangible, heirloom-quality photographs that can be cherished for generations.
Conclusion
Choosing the best newborn photographer in Melbourne is a decision that will forever shape the way you cherish and relive the precious moments of your baby's early days. By defining your style and vision, seeking experience and expertise, conducting thorough research, prioritising safety and comfort, building a personal connection, and evaluating the overall experience, you can find the perfect photographer who will capture the essence and beauty of your newborn. At Kristen Cook Studio, we embody these qualities and strive to provide an exceptional and unforgettable newborn photography experience. Allow us to be your trusted partner in immortalising the magic of your newborn's journey, creating cherished memories that will last a lifetime.